Guardian Universal Harness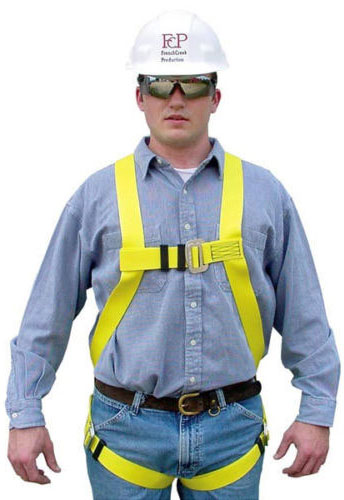 APPLICATIONS:
• For use in all aspects of construction, maintenance and aerial work.
• Fits workers under 310lbs. weight.
• Variety of styles to suit application.
MEASUREMENTS:
• Universal Sizing Adjustments built in for SM-LG.
• XL size available separately.
FEATURES:
• No loose ends! Shoulder strap design.
• Adjustable dorsal D-ring for fall arrest.
• Durable, comfortable nylon webbing.
• Notched pass-thru leg and chest buckles fasten without twisting.
• Tongue buckle leg straps also available.
• Chest straps stay in place.
• Impact Indicator shows if product has been in a fall.
• Sub-pelvic seat strap distributes weight of a fall.
PROPER USE:
Universal Harness must only be used with compatible equipment. Workers must attach to structures capable of withstanding 5,000 lbs of impact in the direction that a fall may occur. Chest buckle must be fastened. Leg straps of harness must be worn. Universal Harness should be stored where it cannot be affected by heat, light, excessive moisture, oil, chemicals, or other degrading elements.
VIEW IN OUR STORE