Blue Bear 500MR Carpet Adhesive Remover | Bean E Doo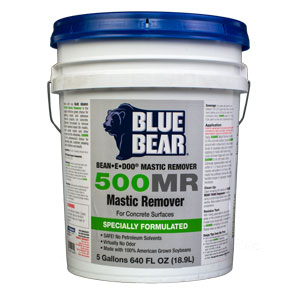 Blue Bear 500MR was formerly known as Bean E Doo.
DIRECTIONS:
Removal of carpet glue, asbestos mastic, vinyl mastic, and ceramic tile mastic:
• Step One: Apply 500MR Mastic Remover directly on the surface.
• Step Two: Spread 500MR around with a straw broom, long handled brush or squeegee using light pressure. If applying to mastic with trowel ridges, cover all trowel ridges with product.
• Step Three: Allow 500MR to sit until adhesive softens. (Generally asbestos/black mastics will soften in 1-2 hours, and vinyl or acrylic mastics will soften in 4-8 hours.)
• Step Four: After mastic has softened, remove with a long handled scraper or squeegee. Re-apply if necessary.
If you are covering a large area, use a commercial sprayer or metal watering can to apply 500MR. 1 gallon covers about 100-200 square feet. When you are finished, if you have remaining residue, you can best clean it with Blue Bear 700DG, a degreaser that will ensure a pristine floor after adhesive removal. You can also use water, a scrub brush, and/or mop or power washer. Allow surface to dry before further preparations.
AVAILABLE IN:
1 quart
1 gallon
5 gallon
All with free shipping over $25!
VIEW IN OUR STORE