SHOCKWAVE Disinfectant/Cleaner 1-Gallon Cocentrate 8310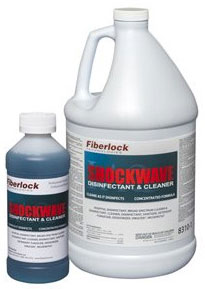 Product No.: 8310
Available in 10 oz size concentrate and 1 gallon concentrate
Fiberlock's ShockWave is an EPA-registered, quaternary ammonium chloride cleaner, disinfectant and sanitizer designed for use on various surfaces subject to microbial contamination. ShockWave is a concentrated formula that will disinfect hard, nonporous surfaces, and also sanitizes porous and semi-porous surfaces. ShockWave is especially useful as an all-in-one product for treating wood structural members, carpets, and other porous and nonporous surfaces as part of a complete mold remediation project
ShockWave concentrate is designed to be diluted two ounces per gallon of water*, yielding 64 gallons of usable product per gallon of concentrate, making it an economical solution for your cleaning, disinfecting, and sanitizing needs.
This is an EPA-registered disinfectant, sanitizer and cleaner designed specifically for mold remediation contractors. ShockWave is designed to meet all your disinfecting, sanitizing, cleaning, and deodorizing needs. ShockWave is strong enough to be used as a hospital grade disinfectant, and has been specifically formulated to be used on both porous and nonporous materials. ShockWave is a powerful concentrated quaternary ammonium chloride blend, that yields up to 64 gallons of usable product from every gallon of concentrate. ShockWave has been tested to kill 80+ organisms including Aspergillus, Penecillium spinulosum, E. coli, Salmonella, HIV, Hepatitis-B, Herpes, Poliovirus, and many other pathogenic and environmental microbial organisms.
ShockWave meets CDC recommendations for control of Swine Influenza A (H1N1)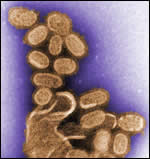 Shockwave and Shockwave RTU Disinfectant/Sanitizer meet the recommendations made by the United States Centers for Disease Control (CDC) for infection control and care of patients with confirmed or suspected Swine Influenza "A" (H1N1) virus in both home and healthcare settings. Guidelines published by the CDC on April 24, 2009 for infection control of Swine Influenza A (H1N1) state "disinfection strategies used during influenza seasons can be applied to the environmental management of swine influenza." Additional guidance published on April 25, 2009 for infection control in the home recommends keeping "surfaces clean by wiping them down with a household disinfectant according to directions on the product label."
What is H1N1?
Swine flu is a regular and commonly occurring respiratory illness in swine. Swine influenza is not a new organism; infections in swine as well as humans are believed to date back over a hundred years. Generally speaking Swine Flu is not found in humans, but throughout history human infections have happened. In 1918 a swine influenza outbreak called the Spanish flu affected 500 million and killed an estimated 50 million people worldwide taking its place as the most devastating pandemic of all time. This outbreak was caused by an exceptionally virulent strain of the H1N1 virus which is considered to be the root source of every A type pandemic virus since then
Just like any strain of influenza, the current strain of H1N1 is constantly changing. For this reason it is difficult to predict where this organism might end up. What is known about this virus is:
• This virus can be spread by human to human contact.
• The virus detected in Mexico is unusual in that in contains genes from several sources: 2 swine viruses, 1 avian virus, 1 human virus.
• The human flu vaccination does not provide protection against swine flu.
• There have been 20 confirmed cases of this strain of H1N1 in the US and 1000 worldwide
• The CDC recommends using standard infection control procedures like hand washing and surface disinfection to help prevent spread of the flu.
• This virus has pandemic potential according to the WHO.
For more information on H1N1 Swine Flu Visit www.cdc.gov.
• Product Data Sheet
• MSDS Sheet
VIEW IN OUR STORE